Dear Constant Reader,
A while ago I reviewed Cherry Dollface's second book, but the first one has still been sitting on my shelf, unreviewed. So here we go, out of order!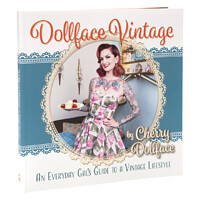 Dollface Vintage: An Everyday Gal's Guide to a Vintage Lifestyle! by Cherry Dollface, 2017.
This is an overview of ways to live a vintage lifestyle, according to Cherry Dollface plus tips from some experts. She shares her thoughts on hair, makeup, style, decor, and entertaining, demonstrated with photos.  Most individual topics within those categories are restricted to a page or two, so don't expect exhaustive information on every possibility. Every topic has a section of tips, including some "dos and don'ts" and my favorite, ways to save money.
My favorite part was the mix and match photos of retro wardrobe basics and then the tips for dressing for hot and cold weather events while keeping your vintage chic.  However, the makeup how-to was a little disappointing as the photos were taken from too far away to really see the details of how she made up her eyes. The entertaining section has a few recipes for appropriate cocktails and menus ideas, but for actual dishes you'll need to check out Dollface Kitchen.
It's a light look at how to incorporate vintage into your lifestyle, as little or as much as you like, in your personal style, without breaking the bank. The emphasis is not historical accuracy, but a retro flair. There's an over-all focus on practicality, which I appreciate.
The print edition is currently unavailable, but you can get a digital version, which has links to some of Cherry's videos and some bonus features. I can't tell you what they are as I only have the physical book…

These writings and other creative projects are supported by my 13 Patrons. Thank you so much! To become a Patron, go to my Patreon page. Or you can just tip me if you liked this.