Dear Constant Reader,
Another book review! I need to work my way through this pile with more alacrity as I would really like more space on my desk.
My love of lingerie began as a teen. I hated wearing pantyhose. As a short girl with long legs, I could never find a pair that fit me properly. If the waistband was in the right place, my toes were always poking through the fabric. The other option was to have the crotch at mid-thigh. I begged my mother to let me wear stockings. Despite rolling her eyes at my quaint request, she gifted me with my very first garter belt and I've never looked back! So, I was delighted to page through this book by the founder of The Lingerie Addict.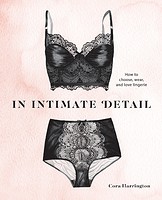 In Intimate Detail: How to Choose, Wear and Love Lingerie by Cora Harrington (2018)
This book covers all the main categories of underthings: bras, undies, shapewear, hosiery, and loungewear. The first several chapters introduce you to the lingerie by type. Have you ever wondered the difference between a balconette and a demi-bra? How about what exactly is a tanga? Each chapter has helpful hints (my favorites!) in the margins and lovely watercolor illustrations. Each one also starts with a brief history of the subject — you know how much I love history!
Each chapter has lots of information to help you make the best choices for the lingerie that's right for you. Practicality for a situation as well as beauty is a key factor. The chapter on bras has extensive information on breast shape and how to choose a well-fitting bra. The shapewear chapter touches only briefly on corsetry, but that's fine. Corsets are such a complex garment, they could be, and should be, a book unto themselves. 
Then there's a chapter about shopping for lingerie. She gives advice for shopping in person and on-line, but also specialty items, like vintage lingerie and how to buy gifts for others. The main take-away in all categories is if you don't absolutely love the item or the experience, walk away. Shopping for lingerie should be as enjoyable as wearing it.
The last chapter is on one of my favorite topics — care and storage. There's how to wash your lingerie and how to keep it so it stays beautiful and wearable for a long time as well as how to organize you lingerie wardrobe. She also broaches the important topic of getting rid of lingerie that's no longer in good condition or doesn't suit you any more. If it's beautiful, but you don't wear it, it's not doing you any good.
It's an all-around good compendium, touching on many topics. There are is a lot of ground covered, so by necessity each section is brief. If you need a direct burlesque tie-in, the foreword is by Dita Von Teese.
These writings and other creative projects are supported by my 12 Patrons. Thank you so much! To become a Patron, go to my Patreon page. Or you can just tip me if you liked this.