The following are popular selections from Miss Mina's extensive repertoire of burlesque acts. Videos of some of them can be seen here.
Music: "La Vie en Rose" by Louis Armstrong (3:26)
Colors: Red and green

Follow Miss Mina on a parasol-twirling promenade down the Champs-Elyses. Her award-winning rose costume is dazzling in its attention to detail. The final reveal is a perennial crowd pleaser.

Stage set: none

Special: can be performed with a chorus line of back-up dancers
In venues with the capability, act can end with a rose-petal drop.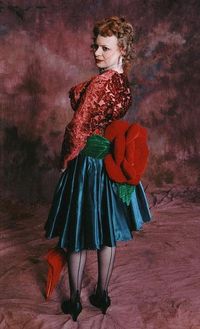 Music: "Howlin'" by The Spectres (3:48)
Colors: Pink and black

Created for a Dr. Who-themed burlesque show, Miss Mina proceeds to show that she's not afraid of the big Bad Wolf.

Stage set: a chair
Seen at the Ohio Burlesque Festival 2014, the Vermont Burlesque Festival 2015, and the Pennsylvania Burlesque Festival 2017.
Music: "Celeste Giglio" by Renaissonics (4:30)
Colors: Purple and gold

A mystical encounter with an ethereal beauty. The Faerie Queen will enchant you with this blend of striptease and magic.

Stage set: none
A stage kitten will be needed to hand Miss Mina her fan.

See performance here.